The Stratus Insight App is available for iPhone, iPad and Apple Watch.
THE BEST MATCH FOR APPLE WATCH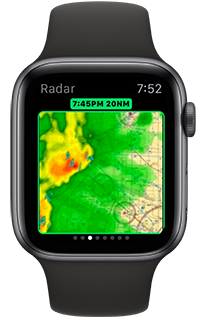 NEARBY AIRPORTS
Display nearby airports, METARs and TAFs on the face of your watch at all times.
Stratus Insight with Stratus receivers
Since introducing the first Stratus portable ADS-B receiver in 2012, Appareo has become the industry leader in the design and production of ADS-B equipment for general aviation. With the introduction of the Stratus Insight EFB, Appareo can provide a complete solution of tightly integrated hardware and software. Stratus Insight supports all generations of Stratus receivers (Stratus 1, 2, 1S/2S, 2i, 3, 3i), and the user experience is seamless.
Not only does Stratus 3 deliver subscription-free weather, dual-band ADS-B traffic and WAAS GPS information to Stratus Insight, the built-in AHRS technology also drives a very responsive pitch and bank instrument within the apps that support it. Essentially a "backup glass cockpit" on your iPad, this provides an excellent backup for emergency situations.
The Stratus Audio Cable is required to enable the Radio Transcription and Radio Playback features in the Stratus Insight and Stratus Horizon Pro app.
Stratus Insight offers a wide variety of device integration supporting both portable and in-panel devices that send ADS-B weather and traffic information to the iPad and iPhone, including AHRS data, flight plan transfers, satellite communication, and active traffic systems.
Sign Up For Updates
Sign up to receive the latest updates from Stratus Insight.